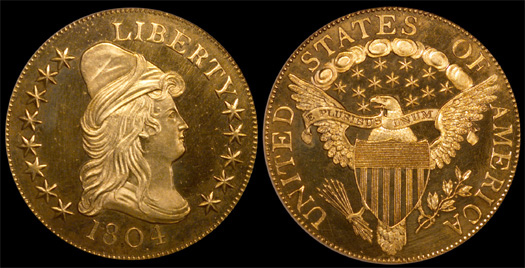 While there were 3,757 of the 1804 Capped Bust Eagles originally struck for circulation, a proof restrike version of the coin was created about three decades later. With only 4 known specimens, this issue is rarer than the considerably more famous 1804 Draped Bust Silver Dollar.
Regular production of the ten dollar gold denomination was halted by President Thomas Jefferson during 1804. A rise in the price of gold had made the coins worth more in metal content than their face value. Since many coins were melted, the surviving population is much lower than the indicated mintage of 3,757.
In 1834, a request was sent to the Director of the Mint to produce duplicate specimens of each U.S. coin currently in use. The special presentation sets created would be used for diplomatic purposes. The silver dollar and gold eagle were struck carrying the 1804 date, representing the last time the denominations were produced for circulation.
The 1804 Proof Capped Bust Eagle carried a different design that the original circulation strikes. The original coins have a crosslet number 4, while the proof coins have a plain 4. The coins also carry a brilliant proof finish.
Four pieces are presently known to exist, and appear to have survived from a mintage of perhaps five pieces struck. The discovery of an additional specimen is possible, but very unlikely, as this issue has been well researched and publicized.