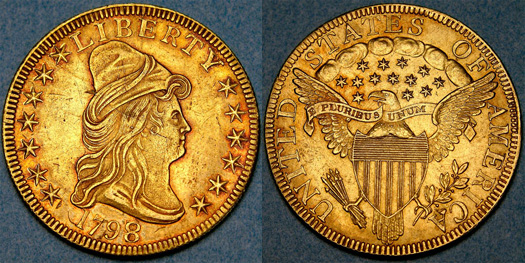 The 1798 Capped Bust Eagle was struck in two varieties, each with an extremely limited mintage. All of the coins for this year are also overdates, which used with dies from the previous year with an "8" punched over the final digit "7".
The first variety displays 9 stars to the left of Liberty and 4 stars to the right. This (9×4) variety has an estimated mintage of 900 pieces, with about 200 survivors.
The second variety displays 7 stars to the left and 6 stars to the right. Also the word "Liberty" appears directly above Liberty's cap without any space. The 9×4 variety, and in fact all other Capped Bust Eagles, have a space where the top of the cap interrupts the arc of stars and inscriptions. The (7×6) variety has an estimated mintage of 842, with about 20 to 30 pieces believed to still exist. Two mint state examples are in the Smithsonian, one of which is pictured above.